JUYING ALUMNUS SHINES AT ASIAN GAMES
STRAITS TIMES | 28 AUG 2018
Our heartiest congratulations to our alumnus Mohamad Afif Sapiee and the Singapore Sepak Takraw team for bringing home the Bronze Medal for Singapore at the 2018 ASIAN GAMES. Mohamad Afif has consistently been an outstanding sportsman since his days as a student at Juying Secondary School.
We wish Afif and the Team Singapore the very best at the 2018 Asian Games and in their future endeavours.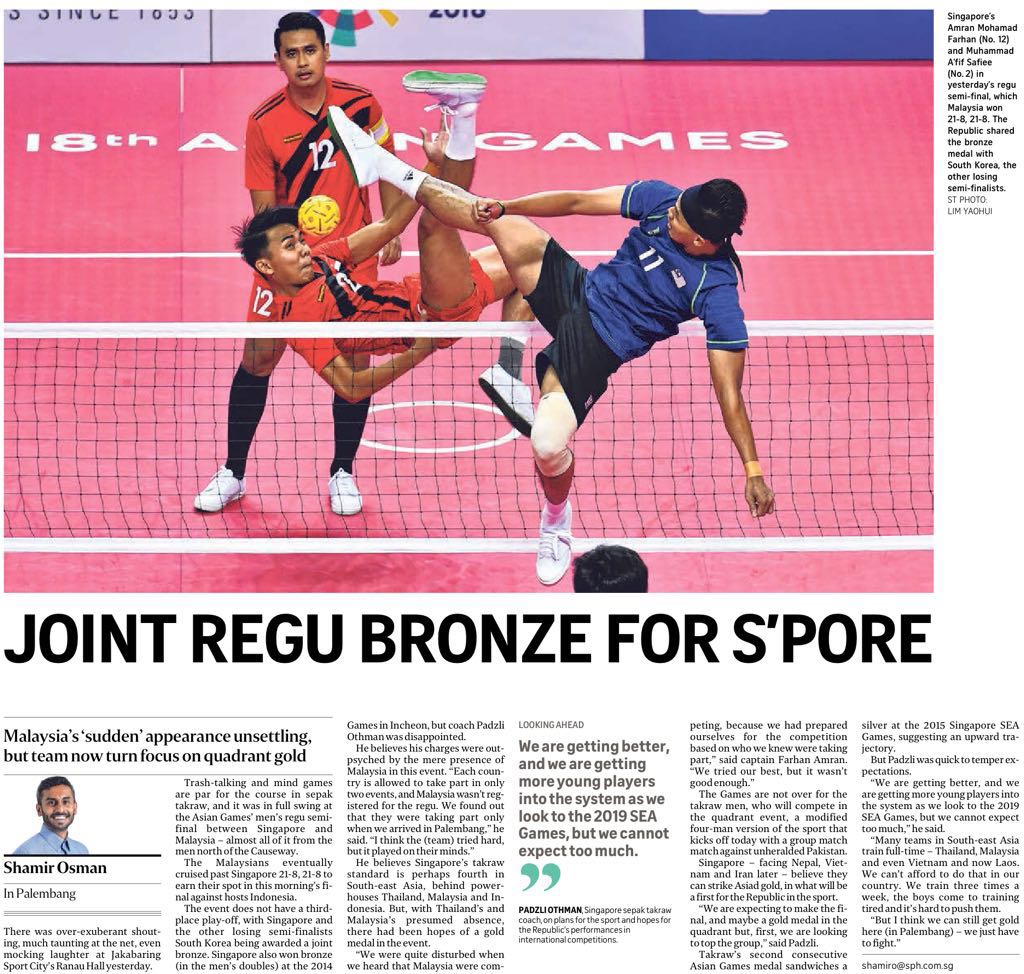 ---
PLAYING SOCCER TO RAISE FUNDS FOR CANCER PATIENTS
BERITA HARIAN | 28 AUG 2018
Juying's Malay Language teacher and soccer veteran, Mr Sies Senan was recently featured in Berita Harian for his key involvement in a charity soccer event. The inaugural event was organised to raise funds for cancer patients specifically those who were part of the Singapore soccer scene. The charity soccer event "Cikgu Sies Invitational Cup 2018" had been proposed by ex Jin Tai Secondary Soccer players once coached by Mr Sies.
Mr Peter Quah, Juying Vice-Principal, who was once at Jin Tai Secondary educator was also at the event to join in the soccer festivities and to catch up with the alumni.
Outside the classroom, Mr Sies, a former Singapore National player, has been actively engaging the community through charity events to help those in need. Indeed Mr Sies is an exemplary role model for our students and fellow Singaporeans alike.
Our highest respects for Mr Sies, the organisers, players and to those who had contributed to the success of this event.